DOGS ARE A PART OF THE FAMILY
They are there throughout our life; Christmas, birthdays, and vacations. The family dog is in every photo album gathering dust in the attic. Photographs are nice, but don't you want something special for your dog? Let Idaho artist Mary Butler create a dog painting to hang on the wall at home.
REMEMBER YOUR DOG WITH ART
Transform a photo into a custom piece of art that will last forever. Using professional acrylic paint and stretched canvas, each portrait is carefully created to render your dogs likeness. Sizes range from 6″ x 6″ to 20″ x 20″.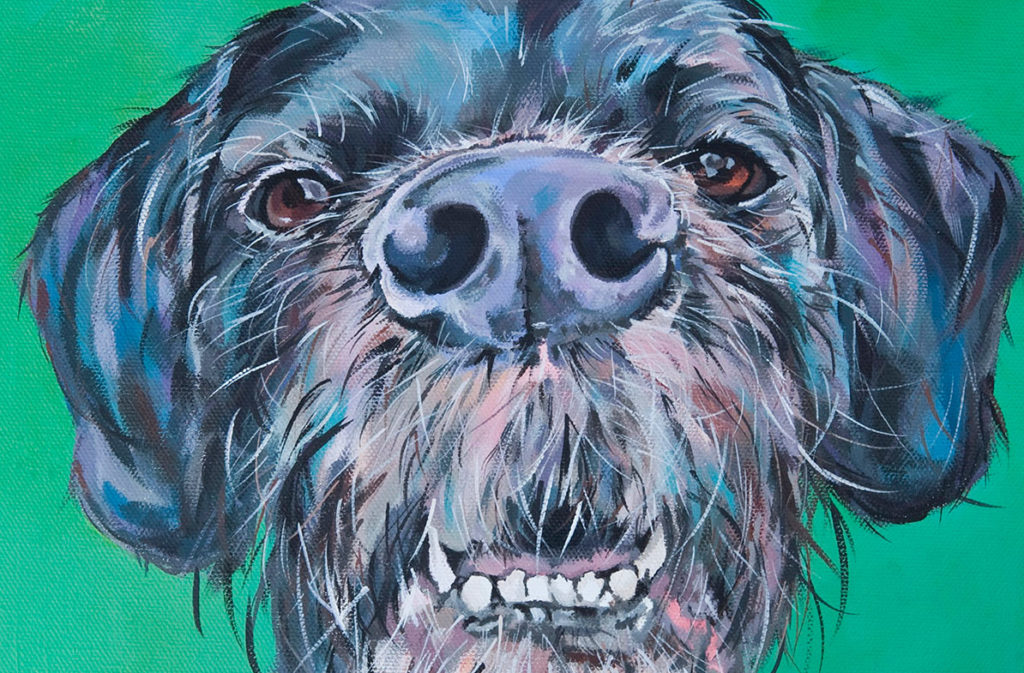 "IT MOVED THEM TO TEARS!"
That's a comment from a recent customer. We love hearing comments like that.
If you have any questions or comments about the the paintings or how to order, use the contact form at the bottom of this page.
PRICES AND DETAILS
Sizes and Prices*
8″ x 8″ – $150
10″ x 10″ – $175
12″ x 12″ – $200
Custom sizes on request
The Process
Contact Us: Use the contact form at the bottom of the this page. Tell us what size painting you want. Is there anything special about your dog? Of course there is, so tell us about them.
Submit Photos: Please give us at least two images of your dog. A variety of profiles is great, preferably in good light. This will add to the success of the painting.
Deposit: At this time we will discuss an estimate of completion date. Please keep in mind that each painting can take several weeks to complete. Paintings are created on a first come first served basis. We will do our best to accommodate special occasions; birthdays, etc.
Final Payment and Delivery: Once the customer's final payment is received, the painting will be carefully packaged and shipped.
Note: Mary Butler retains the full copyright and reproduction rights to exhibit, publish, display, or distribute copies of the painting.
* Prices and terms subject to change.
Contact